I cancelled my xbox live automatic renewal today because I no longer use the service.
I find humor in Microsoft's list of reasons to keep Xbox live: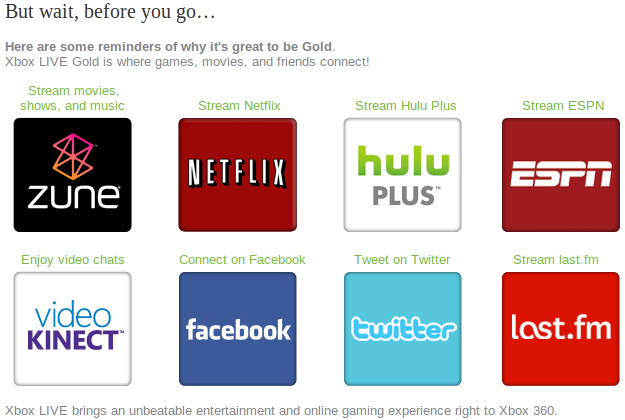 6 out of 8 services above are FREE Internet services!
If I want to use those free Internet services on my TV, I'd rather use my tiny media center PC (nT330i) which is amazing and near silent.
Microsoft prevents subscribers from cancelling their service over the web, and thus they forced me to call their service center. After waiting 5 minutes I finally spoke to a sales representative who seemed friendly and understanding.
She asked me why I wanted to cancel automatic payments. I explained "I want to pay month to month". After listening to my position the sales representative offered 1 month of Xbox Live for $1.00. So I'll have Xbox live until December 2011 after all.
Microsoft, give your users a web browser on the Xbox and stop trying to sell subscriptions to Free Internet services.
*PlayStation 3 launched with a web browser and a FREE network.*
UPDATE: If you opt into the $1 for one month deal, you are also opting back into the automatic renewal program... Even if the person on the phone tells you otherwise.
Call us directly by dialing:

Toll free:
(800) 4MY-XBOX or (800) 469-9269
Hearing impaired (TDD device):
(866) 740-9269 or (425) 635-7102
9 am to 1 am Eastern Time
6 am to 10 pm Pacific Time

---
Want comments on your site?
Remarkbox
— is a free SaaS
comment service
which embeds into your pages to keep the conversation in the same place as your contentr. It works everywhere,
even static HTML sites like this one!
---
Remarks: I cancelled my xbox live automatic renewal